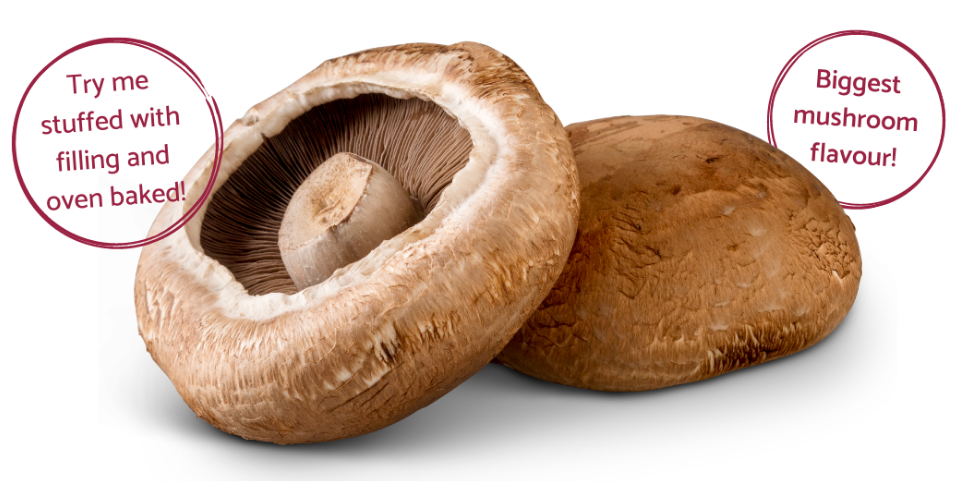 The BIG Portobello mushroom packs the biggest and darkest mushrooms of them all, with the richest mushroom taste, full of that delicious earthy, meaty, umami flavour that we LOVE in mushrooms!
Portobello Mushrooms have less water content than the flat white mushroom and a firmer flesh, which means they hold their shape well during cooking. Portobello mushrooms perfect for stuffed mushrooms, just pop out the stem and fill with your favourite topping and pop in the oven. Because of their firm flesh, portobello's are very popular as a vegan 'steak' as they can be sliced and grilled on the BBQ. 
Do not peel!
Wipe with damp cloth if needed
Leave whole for roasting
Stuff me with filling and bake
Slice, chop or dice me up.
Chop me fine and add me to mince for THE BLEND!
Portobello mushrooms have a biggest mushroom flavour of them all, with a robust earthy and meaty flavour.
Portobello mushrooms can be used in any mushroom recipe, but due to their firm flesh, they are frequently kept whole as they keep their shape while cooking.   

That a Portobello is the same as a Swiss Brown mushroom? Mushroom growers allow the Swiss Brown to continues to grow and mature, until it turns into a big Portobello.