How to choose fresh mushrooms

Choose mushrooms that have a uniform colour with minimal patches.
Mushrooms should be firm and not slippery.
Mushroom stalks shouldn't be dry. 
On smaller mushrooms, the 'veil' of the mushrooms should be attached to the stalk.
On larger mushrooms like the portobello or flat mushroom, you can inspect the gills. These should be intact and moist.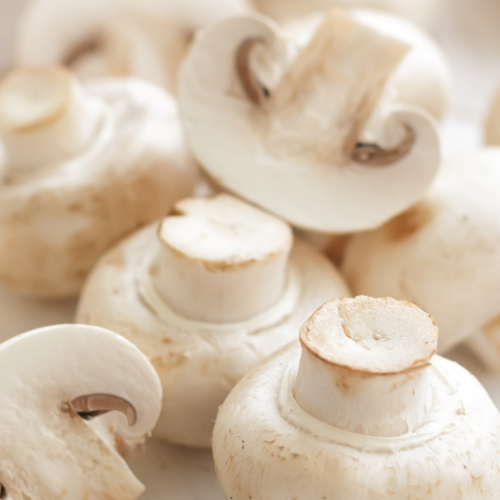 How to store fresh mushrooms
Mushrooms are very delicate. Take care not to bump and bruise them in the shopping basket.
Always store mushrooms in the fridge – in the veggie draw is best.
Mushrooms are 90% water, so they need to be treated differently to veggies. Use the paper bag provided at the store as this will allow them to breathe. They will keep in the fridge for around a week.
If you have purchased pre-packaged mushrooms which are wrapped in plastic, it is best to use them within a day or two. If you wish to store them longer than a few days, either transfer the mushrooms to a paper bag or remove the plastic wrap and cover with paper towel. This will allow the mushrooms to breathe so they can be stored for up to a week.
Do not wash your mushrooms, especially prior to storing them. Mushrooms are like little sponges and will absorb moisture.
Super charge your mushrooms with vitamin D!  Simply place your store bought mushrooms in the sunshine for 15 minutes to 'super charge' their vitamin d levels. To store them, return the mushrooms to the paper bag and place in the fridge. Vitamin D enriched mushrooms will retain their new vitamin D levels for up to a week!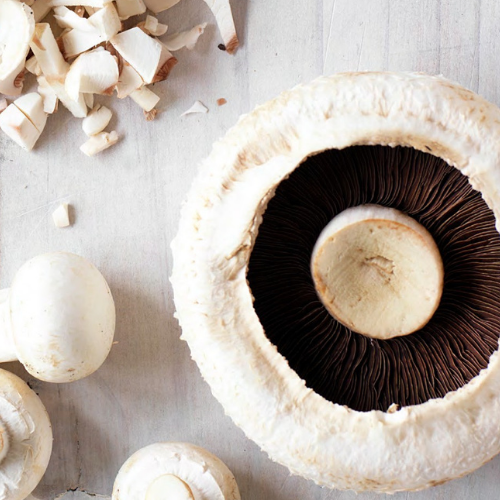 How to prepare fresh mushrooms
Do not peel your mushrooms. A lot of the goodness and flavour is in the skin.
Do not throw away the stems! There is a lot of flavour in them. Simply chop finely if they are a little tough or you can keep them to use in sauces, soups or stocks.
There is no need to wash your mushrooms, just brush off any sprinkles or wipe with a damp cloth.
If you choose to wash your mushrooms, do so under running water and dry them straight away. Do not wash sliced mushrooms as they will quickly absorb the water.
You can eat fresh mushrooms raw, cooked or marinated.
Mushrooms can be enjoyed whole, sliced, diced or even grated with a cheese grater!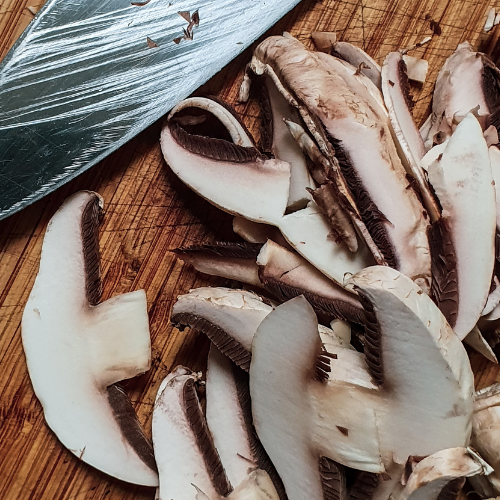 How long do mushrooms take to cook?
Serve Raw
You can be assured that Australian grown mushrooms are of the highest quality and food safety standards. Australian grown mushrooms can be eaten raw and are a delicious addition to a summer salad or a fancy antipasto platter.
No need to wash or peel the mushrooms, just wipe with a damp cloth if necessary and slice or dice the mushroom and add it to your salad. Raw mushrooms have a slight crunch in texture and will soak up the flavours of your salad dressing, so make sure to serve your mushroom salad straight away.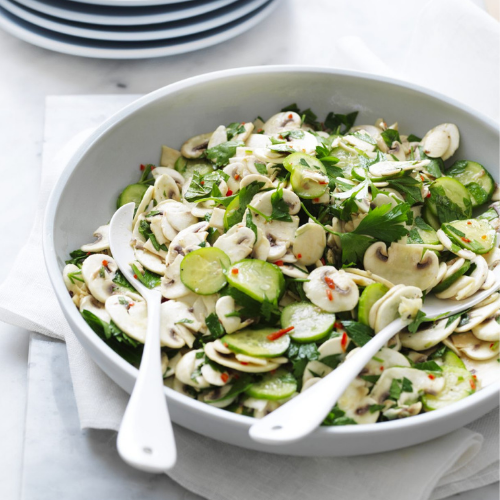 Sauté mushrooms
Sautéed mushrooms are simply sliced and fried in a little olive oil for 4-5 minutes. This is one of the most simplest ways to cook mushrooms, but one of the biggest mistakes people make is that they over crowd the pan.
Mushrooms are 90% water and a lot of this is released during the cooking process. In an over crowded pan, this can cause the mushrooms to 'steam' and be a bit mushy. (No one wants mushy mushies!) The best way to sauté mushrooms is to give them lots of room so they will caramelize and increase in umami flavour.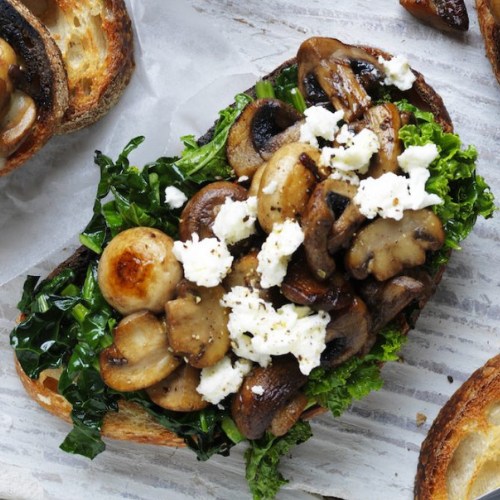 Marinated mushrooms
Mushrooms are like little sponges and soak up liquids quite quickly, which makes them perfect for marinades of any flavour. Marinated mushrooms can be soaked for 15-30 minutes before cooking to enhance their flavour, or you can marinade raw mushrooms for an hour prior to serving in salads or on an antipasto platter. (Trust us, marinated mushrooms are YUM!)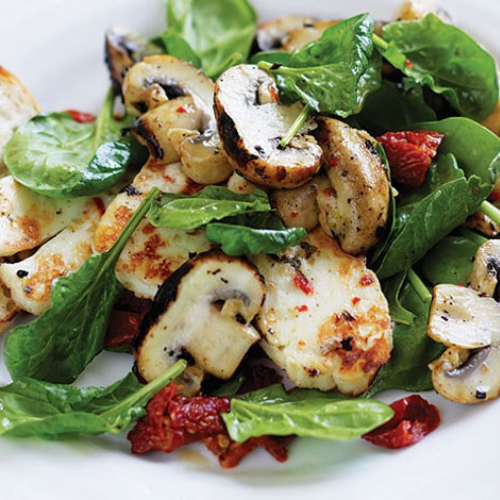 Grilling or BBQ
Grilling or Barbecuing mushrooms is one of the quickest and easiest ways to include mushrooms in your family's everyday diet. Simply brush or toss the mushrooms in a little olive oil and sprinkle with salt and pepper (if you want to take them to the next level, add some chopped rosemary or thyme and diced garlic) and grill on each side for 3-4 minutes, depending on the size of the mushrooms. Leave plenty of space between the mushrooms, so they don't create too much steam. Once golden on each side, they are ready to serve.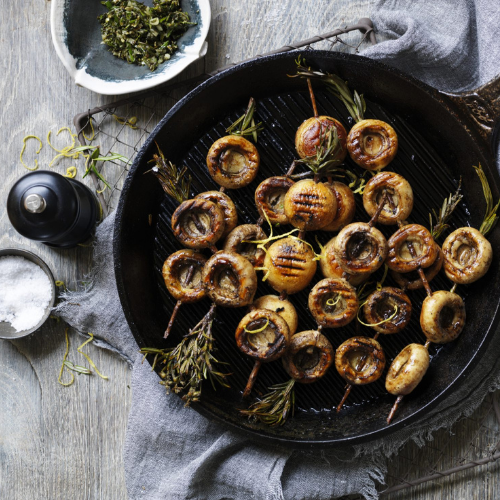 Roast Mushrooms
Whole roasted mushrooms are a delicious option for a meat free meal, or stuff smaller mushrooms for a bite sized appetizer that will be a real crowd pleaser. You can stuff your mushroom with pretty much any filling you want and place in an oiled, shallow baking dish. Roast on the oven on medium heat, around 180°C for around 20 minutes until they are brown and fragrant.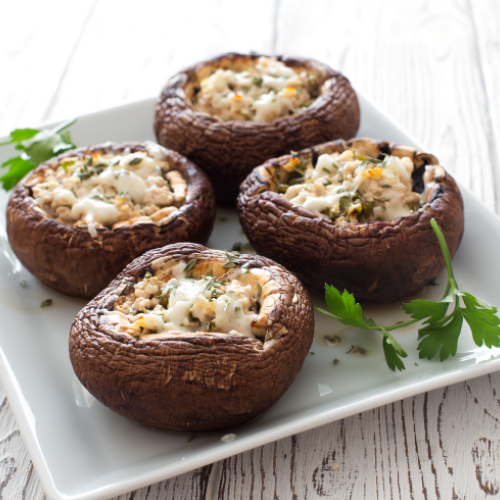 Freezing mushrooms
Given that mushrooms are 90% water, mushrooms don't really go to well being frozen and then defrosted, but it is still possible to use them. Slice or dice the mushrooms before freezing in an ice-cube tray. Defrosted mushrooms aren't very appetizing, but they are still packed with flavour which makes them suitable for sauces and soups.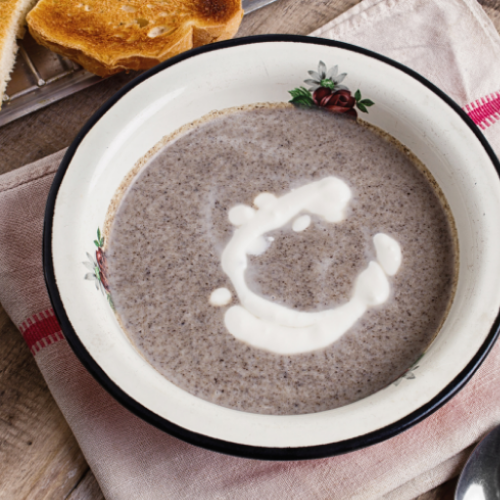 Join our Mushroom Lovers Club!
Receive delicious Mushroom recipies and much more.