With school holidays upon us, it will be a relief for many kids who have endured lockdown to have a break from their virtual classrooms and online learning. But with the publication of a world-first Australian research project that has assessed and summarised all available research findings on the health properties of mushrooms, there is a new alphabet that your kids need to taste and learn. This is an A,B,C,D&E that will help your kids immune systems stay strong, enable better bones and support their health needs both now and throughout their lives.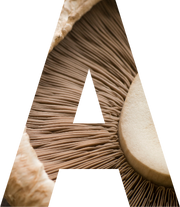 A - Antioxidants for healthier cells
are naturally occurring food compounds that help protect cells from UV and other substances that can damage them. They also work hard to help keep immunes systems working at their best. Particularly important at the moment. Mushrooms are quite an array of antioxidants, also known as flavonoids and polyphenols (specifically, these include catechin, myricetin, quercetin and kaempferol). As mushrooms are classified in the diet as fungi, rather than a vegetable, they are one of the few non-plant foods rich in antioxidants.
Cooking Tip – Trying to eat more foods that provide food sources of antioxidants is important for health. The antioxidant levels of mushrooms are higher when you eat them raw or cook for the shortest time possible. Why not try stuffing mushroom cups with a mix of cream cheese and grated parmesan cheese as a yummy afternoon snack.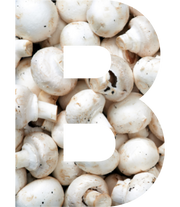 B- Beta-glucans for heart health
Beta-glucan is a soluble type of fibre that you will read about on labels of oat-based cereals that promote heart health. Beta-glucan binds with cholesterol as it moves through the large bowel, lowering cholesterol levels in the body. While oats are an excellent source of beta-glucan, food scientists have analysed mushrooms and found they contain almost double the amount of beta-glucan as an equivalent serve of oats.
Cooking-tip – The beta-glucan content of mushrooms is not affected by cooking, so to boost intakes of what is a valuable source of soluble fibre, add extra mushrooms to your spaghetti bolognese, burger patties, stews and soups.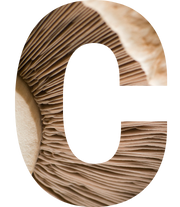 C- Chitin for a healthy gut and immune system
Chitin is unique pre-biotic rich carbohydrate structure that makes up the cell wall of the mushroom. Prebiotics are a type of fibre found in plant foods that provide an essential source of fermentable food for the trillions of good gut bacteria that work inside our gut to keep it and our bodies healthy.
Fun fact! Did you know that 70% of the immune system is housed in the gut and that our gut microbiome (bacteria) helps direct many of its essential functions. This is why feeding our good gut bacteria a high fibre, and prebiotic-rich diet is important!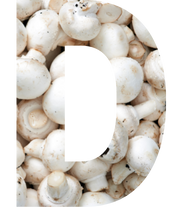 D- Vitamin D for strong bones
Vitamin D is a vitamin essential for growing bones, and mushrooms are one of the few foods that provide a good source of vitamin D, with levels increasing 10-fold when the mushrooms are left out on the kitchen bench and exposed to natural light. It is a vitamin that many people are deficient in and adding UV light exposed mushrooms will help build strong bones.

Cooking tip – To boost the vitamin D content of mushrooms, leave your mushrooms out and exposed to natural light for around 15-minutes. When cooking, it is a good idea to squeeze a few drops of lemon juice into the pan and cook your mushrooms for a shorter time. Cut up raw mushrooms are great in sandwiches, salads or try adding them to a toasted cheese sandwich.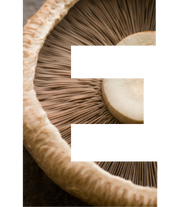 E- Ergothioneine for brain and skin health
Mushrooms are full of protective type antioxidants, including one called ergothioneine. Nutrition researchers have been excited by it as it seems that it has quite a potent role in helping to protect our DNA, brain, skin and other cells in the body. It is now used as an ingredient in some skin creams, and diets rich in ergothioneine have are associated with a lower risk of neurological disorders such as multiple sclerosis and Parkinson disease.
Fun fact! Mushrooms serve up more ergothioneine, than any other vegetable or plant food. Making mushrooms an essential food for vegetarians. Vegans will also want to know that mushrooms are one of the few plant foods that provide a source of vitamin B12.
Cooking tip – To ensure you ingest the highest levels of ergothioneine, it is best to only cook your mushrooms for as short a period as possible. You can try them raw, steamed or throw them into the stir-fries for a few minutes before you serve them up.
So there you have the A,B,C,D & E of mushrooms!  So why not put the aprons on, roll up the sleeves and help your kids learn to recite the A, B, C, D& E of the mighty mushroom with recipes such as cheesy mushroom & bacon pizza, mexican mushroom popcorn or why not try mac & cheese stuffed mushrooms. (Yum!) 
Note: the information in this article is meant as general information only. For specific, personal advice on any medical condition, please see your doctor.
AMGA Dietitian - Jane Freeman
Jane is an internationally regarded and experienced dietitian and nutritionist, is an IOC (International Olympic Committee) qualified sports nutritionist, Leiths qualified cook and an award-winning author.
As a practicing dietitian and director for CANutriton, a cancer specialist nutrition practice in Sydney, Jane is big mushroom lover and passionate about delivering practical nutrition advice that is easy to understand and adopt.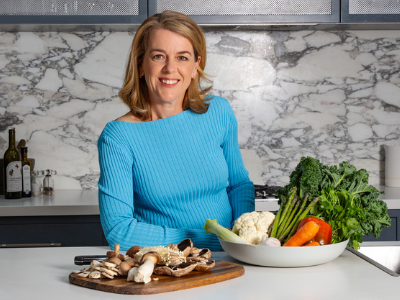 References:
Link to the Australian world-first study assessing and summarising research findings into the health effects and bio-active substances in mushrooms: Examining the health effects and bioactive components in Agaricus bisporus mushrooms: a scoping review - ScienceDirect
Antioxidants
Gan CH, Nurul Amira B, Asmah R. Antioxidant analysis of different types of edible mushrooms (Agaricus bisporous and Agaricus brasiliensis). Int Food Res J. 2013;20:1095–102.
Ganguli, Ghosh M, Singh N. Antioxidant activities and total phenolics of pickles produced from the edible mushroom, Agaricus bisporous. J Culinary Sci Tech.2006;5:131–42.
Ozen T, Darian C, Aktop O, Turkekul I. Screening of antioxidant, antimicrobial activities and chemical contents of edible mushrooms wildly grown in the black sea region of Turkey. Comb Chem High Throughput Screen. 2010;14:72–84.
Rezaeian S, Saadatmand S, Sattari TN, Mirshamsi A. Antioxidant potency of Iranian newly cultivated wild mushrooms of Agaricus and Pleurotus species. Biomed Res. 2015;26:534–42.
Ng ZX, Tan WC. Impact of optimised cooking on the antioxidant activity in edible mushrooms. J Food Sci Technol. 2017;54:4100–11.
Jagadish LK, Venkata Krishnan V, Shenbhagaraman R, Kaviyarasan V. Comparative study on the antioxidant, anticancer and antimicrobial property of Agaricus bisporus(J. E. Lange) In bach before and after boiling. Afr J Biotechnol. 2009;8:654–61.
Beta-glucan
Rop O, Macek J, Jurikova T. Beta-glucans in higher fungi and their health effects. Nutr Rev. 2009;67:624–31.
Koyyalamudi SR, Jeong SC, Cho KY, Pang G. Vitamin B12 is the active corrinoid produced in cultivated white button mushrooms (Agaricus bisporus). J AgriculFood Chem. 2009;57:6327–33.
Volman JJ, Helsper JPFG, Wei S, et al. Effects of mushroom-derived beta-glucan-rich polysaccharide extracts on nitric oxide production by bone marrow-derived macrophages and nuclear factor-kappa-B transactivation in Caco-2 reporter cells: can effects be explained by structure? Mol Nutr Food Res. 2010;54:268–76.
Palanisamy M, Aldar's-Garcia L, Gil-Ramirez A, et al. Pressurised water extraction of beta-glucan enriched fractions with bile acid-binding capacities obtained from edible mushrooms. Biotechnol Prog. 2014;30:391–400.
Nitschke J, Modick H, Busch E, et al. A new colorimetric method to quantify beta-1,3-1,6-glucans in comparison with total beta-1,3-glucans in edible mushrooms.Food Chem. 2011;127:791–6.[87]Singh AK, Dutta D.
Extraction of chitin-glucan complex from Agaricus bisporus: characterisation and antibacterial activity. J Polym Mater. 2017;34:1–9.
Kahn AA, Gani A, Masoodi FA, et al. Structural, rheological, antioxidant, and functional properties of β-glucan extracted from edible mushrooms
Agaricusbisporus, Pleurotus ostreatus and Coprinus attrimentarius. Bioact Carbohydr Diet Fibre. 2017;11:67–74.
Chitin
Jayachandran M, Xiao J, Xu B. A critical review on health-promoting benefits of edible mushrooms through gut microbiota. Int J Mol Sci. 2017;18:E1934.
Hess J, Wang Q, Gould T, Slavin J. Impact of Agaricus bisporus mushroom consumption on gut health markers in healthy adults. Nutrients. 2018;10:1402.
Dhamodharan G, Mirunalini S. A detailed study of phytochemical screening, antioxidant potential and acute toxicity of Agaricus bisporus extract and its chitosan loaded nanoparticles. J Pharm Res. 2013;6:818–22.
Vitamin D
Cardwell G, Bornman JF, James AP, Black LJ. A review of mushrooms as a potential source of dietary vitamin D. Nutrients. 2018;10:1498.
Erjavec I, Brkljacic J, Vukicevic S, et al. Mushroom extracts decrease bone. Resorption and improve bone formation. Int J Med Mushrooms. 2016;18:559–69.
Stephensen CB, Zerofsky M, Burnett DJ, et al. Ergocalciferol from mushrooms or supplements consumed with a standard meal increases 25-hydroxyergocalciferol but decreases 25-hydroxycholecalciferol in the serum of healthy adults. J Nutr.2012;142:1246–52.
Keegan RH, Lu Z, Bogusz JM, et al. Photobiology of vitamin D in mushrooms and its bioavailability in humans. Dermato Endocrinol. 2013;5:165–76.
Urbain P, Singler F, Ihorst G, et al. Bioavailability of vitamin D2 from UVB-irradiated button mushrooms in healthy adults deficient in serum 25-hydroxyvitamin D: a randomised controlled trial. Eur J Clin Nutr. 2011;65:965–71.
Simon RR, Phillips KM, Horst RL, Munro IC. Vitamin D mushrooms: comparison of the composition of button mushrooms (Agaricus bisporus) treated postharvest with UVB light or sunlight. J Agric Food Chem. 2011;59:8724–32.
Ergothioneine
Nkodo A. A Systematic Review of in-vivo Studies on Dietary Mushroom Supplementation for Cognitive Impairment (P14–021-19). Curr Dev Nutr2019;3:nzz052.P14–021-19
Jasinghe VJ, Perera CO. Distribution of ergosterol in different tissues of mushrooms and its effect on the conversion of ergosterol to vitamin D2by UV irradiation. Food Chem. 2005;92:541–6.
Weigand-Heller AJ, Kris-Etherton PM, Beelman RB. The bioavailability of ergothioneine from mushrooms (Agaricus bisporus) and the acute effects on antioxidant capacity and biomarkers of inflammation. Prev Med.
Kalaras MD, Richie JP, Calcagnotto A, Beelman RB. Mushrooms: a rich source of the antioxidants ergothioneine and glutathione. Food Chem. 2017;233:429–33.
Choi SJ, Lee YS, Kim JK, et al. Physiological activities of extract from edible mushrooms. Korean J Food & Nutr. 2010;39:1087–96.[85]Dikeman
CL, Bauer LL, Flickinger EA, Fahey Jr GC. Effects of stage of maturity and cooking on the chemical composition of select mushroom varieties. J Agric Food Chem. 2005;53:1130–8.
Yoshida S, Shime H, Funami K, et al. The antioxidant ergothioneine augments the immunomodulatory function of TLR agonists by direct action on macro-phages. PloS One. 2017;12:e0169360.
Halliwell B, Cheah IK, Tang RMY. Ergothioneine - a diet-derived antioxidant with therapeutic potential. FEBS Lett. 2018;592:3357–66.
Yoshida S, Shime H, Matsumoto M, et al. Anti-oxidative amino acid L-ergothioneine modulates the tumour microenvironment to facilitate adjuvant vaccine immunotherapy. Front Immunol. 2019;10:671.
Join our Mushroom Lovers Club!
Receive delicious Mushroom recipies and much more.