Australia's National Mushroom Day was celebrated on Thursday 15th October 2020. This special day of the year is our chance to put mushrooms in the media spotlight. Mushrooms are quite unique, in that they are not a fruit or a vegetable, they are FUNGI and as such, they grow in a very unique way. Apart from tasting great, Mushrooms have unique health benefits, all of which we aim to highlight on National Mushroom Day.
This year, our focus for National Mushroom Day was to promote the health benefits of mushrooms, in particular, mushrooms ability to produce Vitamin D. This important vitamin is known to assist us absorb calcium, which is great for our bones and teeth, but recent research is also proving Vitamin D to assist with our respiratory system and immunity. One in four Australians are reported to be Vitamin D deficiency and considering the nation has been experiencing lockdowns and we have just come out of winter, Vitamin D is particularly important in all of our diets.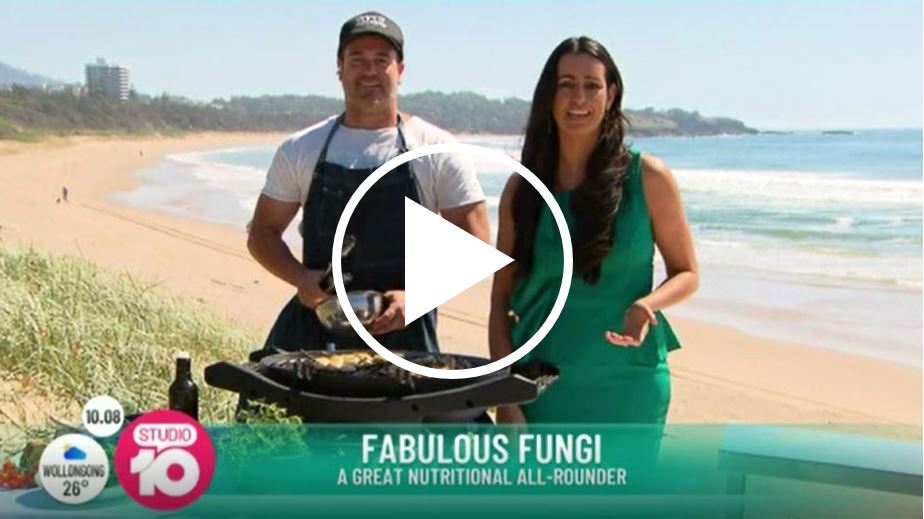 To help us spread this message and share some delicious mushroom recipes, the Australian Mushroom Growers Association commissioned Dr. Flavia Fayet-Moore from Nutrition Research Australia, to appear on Studio 10, alongside chef Matt Donovan. Flavia is currently immersed in mushroom research and health professional advocacy for Australian Mushrooms. She took the opportunity to explain the process of how just 3 mushrooms a day can provide 100% of our daily vitamin D needs. Put simply, if you take your store-bought mushrooms and place them in the sun for just 15 minutes, your mushrooms will convert vitamin D in a similar process as our skin. This process is referred to as "tanning your mushrooms" with the mushrooms absorbing the Vitamin D, without effecting the mushrooms look or taste. What is even more impressive, is these new, supercharged vitamin D levels remain in the mushroom for up to a week if stored in the fridge and mostly remain through the cooking process.
With the help of our social media influencer connections, this message of vitamin D were echoed throughout Facebook and Instagram. Australian Mushrooms gave mushroom lovers the opportunity to win a Weber Q, simply by sharing a picture of their National Mushroom day mushroom dish, either home cooked or at a restaurant and sharing the hashtag #NationalMushroomDay. 
'SA Mushrooms' partnered with local organization 'Pick a Local. Pick SA!' to create a very exciting Facebook Live cook-off, featuring two former MasterChef contestants, Mandy Hall and Helen "The Greek Vegetarian". Over an hour long live social media broadcast, the pair each cooked a unique mushroom dish. The live stream also gave the viewers the opportunity to ask the contestants questions. 
Mushroom Growers around the country joined the celebrations by taking the opportunity show their staff appreciation for all their hard work, by hosting mushroom day BBQ's.
Costa Mushrooms (pictured) treated their staff to stuffed mushrooms and delicious mushroom and chorizo kababs, with a vegetarian option.  
Join our Mushroom Lovers Club!
Receive delicious Mushroom recipies and much more.