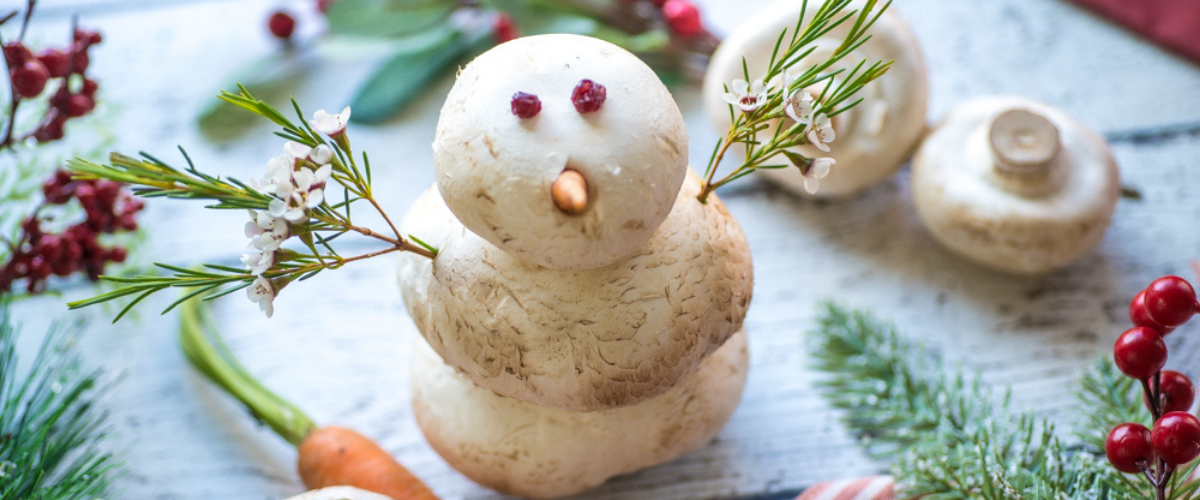 With this year's reunions set to be extra special, December is a wonderful time for catching up with our loved ones, swapping gifts, and indulging in feasts together. Of course, with all the celebrations, Christmas isn't always a good time for our health (or the scales)!
We know that by simply adding mushrooms to our Christmas stuffing, to chip and dip platters for entertaining, and including mushrooms in summer BBQ recipes is a great way to serve lighter, healthier and tastier meals this festive season - but there are also very specific reasons why mushrooms are a great health gift to give your loved ones this Christmas.
White Mushroom Cups – The gift of vitamin D.
The white mushroom cup is on the top of our Christmas tree, as it is Australia's most popular festive mushroom - with good reason. Despite its small size, exciting new Australian research1 has uncovered that this little mushroom is full of B group vitamins (including B12), minerals, antioxidants, and gut health nutrients. The research also confirmed something very exciting - mushrooms are the only wholefood able to provide 100% of the daily recommended dose of vitamin D per serve.
Presenting as an active hormone called ergosterol, mushrooms can produce vitamin D in a similar process to our skin. When mushrooms are exposed to sunlight for just 15-minutes the ergosterol converts into a bioactive form of vitamin D, which we absorb when we eat the mushroom. Amazingly, once a mushroom has been 'supercharged' with vitamin D by being exposed to the sun, the new D levels remain in the mushroom for up-to a week if they are stored in the fridge.  
You might be thinking "It's Summer and we will be out in the sunshine, so wouldn't I get my vitamin D from the sun anyway?" Of course this is true! But with the Australian summer's UV index at its peak, we are all encouraged to be 'sun-smart' and cover up. Using sunscreen or a summer rashie blocks the sun from reaching our skin, which also blocks the vitamin D process. This is why many of us could still be vitamin D deficient over Summer.
That's where mushrooms can help. Eating just one serve (three mushroom cups) of 'tanned' (sunlight exposed) mushrooms as part of your festive meals or snacks, is a sun-smart way to meet your daily Vitamin D requirements. Snacking on 3-4 medium white mushrooms, in fact provides you the same dose of vitamin D that is found in a regular 1000IU Vitamin D supplement.
Festive White Mushroom recipe ideas – White mushrooms are the all-rounder mushroom. They can be eaten raw (a good afternoon filler snack or on as an addition to a tasting plate or platter), they add texture to salads and a richer taste in your Turkey stuffing. White mushroom cups are also ideal for blending with mince, to boost the nutritional value of meaty dishes such as burger patties, meatballs, spaghetti Bolognese and tacos.  
Swiss Brown Mushrooms – The gift for your gut.
The baby of the Portobello mushroom-Swiss browns-are the same variety as a white button mushroom (Agaricus Bisporus), however they are richer in taste. They are also a little firmer than it's white cousin, and contain about 10% of pre-biotic dietary fibres known as B-glucan and chitin. Both these pre-biotic fibres feed the healthiness of our gut microbiomes and immune system. B-glucan is also known to be able to significantly lower blood cholesterol levels. Research is currently being undertaken by CSIRO to measure the extent the B-glucan in mushrooms can lower blood cholesterol levels, and the possible role it will play, as a food able to be prescribed for hearth health.  
Festive Swiss Brown recipe ideas – Swiss brown mushrooms are interchangeable with white button mushrooms, but they are slightly firmer and have a deeper flavour, which makes them great in pasta, risotto or arancini balls. They hold firm on the home-made pitta bread pizzas and in your stir-fry dishes.
Portobello - An easy meat-free gift.
The Portobello mushroom is the same as a Swiss Brown mushroom, but it has just been allowed to grow larger before harvesting. As the mushroom matures, it forms a richer flavour and darker colour.
Like the button and the Swiss browns, the portobello mushroom is rich in essential vitamins and minerals, but also contains a lot of water which makes it a low energy dense food. It is essentially the perfect "diet" food, as it packed with nutrients, but only contributes around 25 calories or 100 kilojoules per serve-and is a healthier, lower energy, dense substitute.
Festive Portobello recipe ideas – Because of the size and texture, a large Portobello is an easy substitution for meat dishes, perfect for a meat free meal occasion and a simple way to cater for guests who are vegan or vegetarian. Portobellos are great grilled on the BBQ in place of a steak or burger patty or stuffed with ingredients and roasted. You can even use them in place of a burger bun to reduce the carbohydrate and calorie load – which is a novel idea for those wanting to lose weight over the festive season.
On behalf of the mushroom growers around Australia, we wish you the merriest Christmas!
Note: the information in this article is meant as general information only. For specific, personal advice on any medical condition, please see your doctor.
AMGA Dietitian - Jane Freeman
Jane is an internationally regarded and experienced dietitian and nutritionist, is an IOC (International Olympic Committee) qualified sports nutritionist, Leiths qualified cook and an award-winning author.
As a practicing dietitian and director for CANutriton, a cancer specialist nutrition practice in Sydney, Jane is big mushroom lover and passionate about delivering practical nutrition advice that is easy to understand and adopt.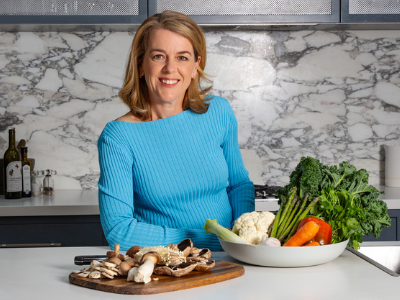 References:
Link to the Australian world-first study assessing and summarising research findings into the health effects and bio-active substances in mushrooms.
Examining the health effects and bioactive components in Agaricus bisporus mushrooms: a scoping review - ScienceDirect
Antioxidants
Gan CH, Nurul Amira B, Asmah R. Antioxidant analysis of different types of edible mushrooms (Agaricus bisporous and Agaricus brasiliensis). Int Food Res J. 2013;20:1095–102.
Beta-glucan
Rop O, Macek J, Jurikova T. Beta-glucans in higher fungi and their health effects. Nutr Rev. 2009;67:624–31.
Koyyalamudi SR, Jeong SC, Cho KY, Pang G. Vitamin B12 is the active corrinoid produced in cultivated white button mushrooms (Agaricus bisporus). J AgriculFood Chem. 2009;57:6327–33.
Nitschke J, Modick H, Busch E, et al. A new colorimetric method to quantify beta-1,3-1,6-glucans in comparison with total beta-1,3-glucans in edible mushrooms. Food Chem. 2011;127:791–6.[87]Singh AK, Dutta D.
Extraction of chitin-glucan complex from Agaricus bisporus: characterisation and antibacterial activity. J Polym Mater. 2017;34:1–9.
Kahn AA, Gani A, Masoodi FA, et al. Structural, rheological, antioxidant, and functional properties of β-glucan extracted from edible mushrooms
Agaricusbisporus, Pleurotus ostreatus and Coprinus attrimentarius. Bioact Carbohydr Diet Fibre. 2017;11:67–74.
Chitin 
Jayachandran M, Xiao J, Xu B. A critical review on health-promoting benefits of edible mushrooms through gut microbiota. Int J Mol Sci. 2017;18:E1934.
Hess J, Wang Q, Gould T, Slavin J. Impact of Agaricus bisporus mushroom consumption on gut health markers in healthy adults. Nutrients. 2018;10:1402.
Vitamin D
Cardwell G, Bornman JF, James AP, Black LJ. A review of mushrooms as a potential source of dietary vitamin D. Nutrients. 2018;10:1498.
Erjavec I, Brkljacic J, Vukicevic S, et al. Mushroom extracts decrease bone. Resorption and improve bone formation. Int J Med Mushrooms. 2016;18:559–69.
Stephensen CB, Zerofsky M, Burnett DJ, et al. Ergocalciferol from mushrooms or supplements consumed with a standard meal increases 25-hydroxyergocalciferol but decreases 25-hydroxycholecalciferol in the serum of healthy adults. J Nutr.2012;142:1246–52.
Keegan RH, Lu Z, Bogusz JM, et al. Photobiology of vitamin D in mushrooms and its bioavailability in humans. Dermato Endocrinol. 2013;5:165–76.
Urbain P, Singler F, Ihorst G, et al. Bioavailability of vitamin D2 from UVB-irradiated button mushrooms in healthy adults deficient in serum 25-hydroxyvitamin D: a randomised controlled trial. Eur J Clin Nutr. 2011;65:965–71.
Simon RR, Phillips KM, Horst RL, Munro IC. Vitamin D mushrooms: comparison of the composition of button mushrooms (Agaricus bisporus) treated postharvest with UVB light or sunlight. J Agric Food Chem. 2011;59:8724–32.
Ergothioneine
Nkodo A. A Systematic Review of in-vivo Studies on Dietary Mushroom Supplementation for Cognitive Impairment (P14–021-19). Curr Dev Nutr2019;3:nzz052.P14–021-19
Jasinghe VJ, Perera CO. Distribution of ergosterol in different tissues of mushrooms and its effect on the conversion of ergosterol to vitamin D2by UV irradiation. Food Chem. 2005;92:541–6.
Weigand-Heller AJ, Kris-Etherton PM, Beelman RB. The bioavailability of ergothioneine from mushrooms (Agaricus bisporus) and the acute effects on antioxidant capacity and biomarkers of inflammation. Prev Med.
Kalaras MD, Richie JP, Calcagnotto A, Beelman RB. Mushrooms: a rich source of the antioxidants ergothioneine and glutathione. Food Chem. 2017;233:429–33.
Choi SJ, Lee YS, Kim JK, et al. Physiological activities of extract from edible mushrooms. Korean J Food & Nutr. 2010;39:1087–96.[85]Dikeman
CL, Bauer LL, Flickinger EA, Fahey Jr GC. Effects of stage of maturity and cooking on the chemical composition of select mushroom varieties. J Agric Food Chem. 2005;53:1130–8.
Yoshida S, Shime H, Funami K, et al. The antioxidant ergothioneine augments the immunomodulatory function of TLR agonists by direct action on macro-phages. PloS One. 2017;12:e0169360.
Halliwell B, Cheah IK, Tang RMY. Ergothioneine - a diet-derived antioxidant with therapeutic potential. FEBS Lett. 2018;592:3357–66.
Yoshida S, Shime H, Matsumoto M, et al. Anti-oxidative amino acid L-ergothioneine modulates the tumour microenvironment to facilitate adjuvant vaccine immunotherapy. Front Immunol. 2019;10:671.
Join our Mushroom Lovers Club!
Receive delicious Mushroom recipies and much more.